Professor Ioannis Liritzis visited the School of History and Culture
Publish Date:2018-05-17 17:05
Professor Ioannis Liritzis from University of the Aegean, very established and well-known in archaeometry, visited the Center of the Yellow River Civilization and Sustainable development and the School of History and Culture from January 6-11, 2017. As the founder of the Laboratory of Archaeometry and editor-in-chief of the journal Mediterranean Archaeology & Archaeometry, he works on interdisciplinary studies on geophysics, astronomy, planetology, paleomagnetism, paleoclimatology, and specialized in optical stimulated luminescence dating and obsidian dating.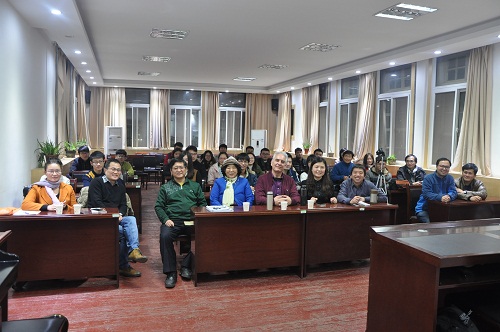 Professor Ioannis Liritzis gave 6 presentations in the School of History and Culture, titled as Archaeoenvironment in East Mediterranean, Aegean Maritime Archaeology, The Added Value of Archaeometry to Cultural Tourism & Sustainability, New Prospectives of Archaeological Sciences in Eastern Mediterranean, Delphi, Skyscape and Archaeological Sciences, Dating Methods in Archaeology (C14, OSL, OHD). With rich and colorful contents, his lectures brought us an audiovisual feast, so many teachers and students in or outside the Archaeology and Museology Program came to the lectures
Lectures totally in English is rare in Chinese universities. Such an arrangement represents our endeavor in international cooperation, and should probably be an unforgettable experience for the students. While speaking in English, Professor Ioannis Liritzis was totally aware of the language lap between the speaker and the audience, so tried his best to choose simpler and more figurative words in order to make it easier for the audience. Generally speaking, these lectures realized our academic aim for exchange.